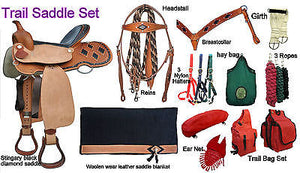 USA Leather Western Saddle Set. Headstall,Breastcollar,Halters etc. SADDL
Regular price
Sale price
$644.00
---
Buying becomes better when all what you want is just a click far !
This is a Western trail saddle set for the buyers who are in full plan to bag the deals now for the next riding season.

Leather used in this saddle and in this tack set is 100% USA Leather.


This is an exclusive saddle with its full set prepared keeping in mind your coming riding season.
And 75 % less than the retail rate.
Saddle is complete new piece offered to you with mega freebies.
Read on to know where and what you exactly will save with this deal.

Saddle set contains: 1)  Saddle  (Wholesale price : $ 495)
                                 2)  Matching headstall (Wholesale price: $ 55)
                                 3)  Matching Beast collar (Wholesale price
: $ 69
)                                      
                                 4) 
Wo
olen cinch  (Wholesale price
: $12
)                                       
                                 5) 
Hay Bag
    (Market rate: $10 )
                                 6)  3 Pcs Trail Bag Set  (Others least rate: $ 34)
                                 7)  Ear net (Others rate: $ 4)                                 
                                 8)  3 Nylon Halters  (Wholesale Price: $12 x 3 = $ 36)                              
                                 9)  36"x34" Wear leather saddle blanket   (Wholesale rate: $45)                                 
                               10)  3 Pcs Cotton lead ropes with nickel snap (Wholesale rate:  $ 7 x 3Pcs = $21)                         
                               11)  Reins 
(wholesale rate:
$ 18)

Total Wholesale price $ 799.00.  Retail Price of Set $1475.00

Complete set has tack measuring Full horse size.
Saddle size available are 15" and 16". Please contact us for confirmation of the size of the saddle.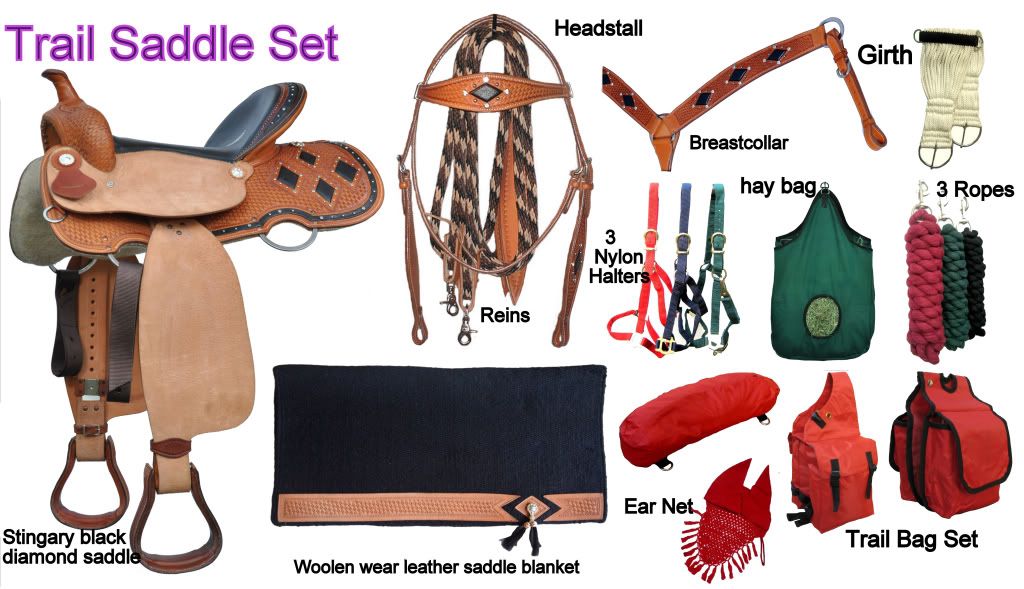 Saddle features
:
Made with top of the line 100% USA Leather from Wickett & Craig of America.


Natural leather saddle with elegant Stingray print on the sharp black leather saddle seat.

Back skirting is decorated with black diamond shaped leather accents surrounded with crystals and spots.

Hand-tooled basket weave design all around the saddle skirt.

Fenders are made from rough out leather.


Semi quarter horse bars (SQHB)

Tree: Fiber Flex, Steel Reinforced

, Gullet: 6" Wide

, Horn: 3 1/2" High

, Cantle: 5" High

, Skirt: 27 1/2" Long.
Saddle Blanket:  Made of quality heavy weight New Zealand Wool.
For any more information regarding this set please send us a message. Import duties and taxes are not included in item price. These charges are buyer's responsibility.
Please check with your custom's office to know if these charges will be implied on you which usually depends on product category in a particular country.
We will ship via FEDEX and update you with tracking number as early as we ship your product.